"Nordica 16" *
Country: Canada
Length: 15´6"

Beam: 6´20"

Draught: 20"

Total weight: 925 lbs

Ballast: 400 lbs
Sailarea: 130 sq. ft
Mainsail:

Jib:

Genoa: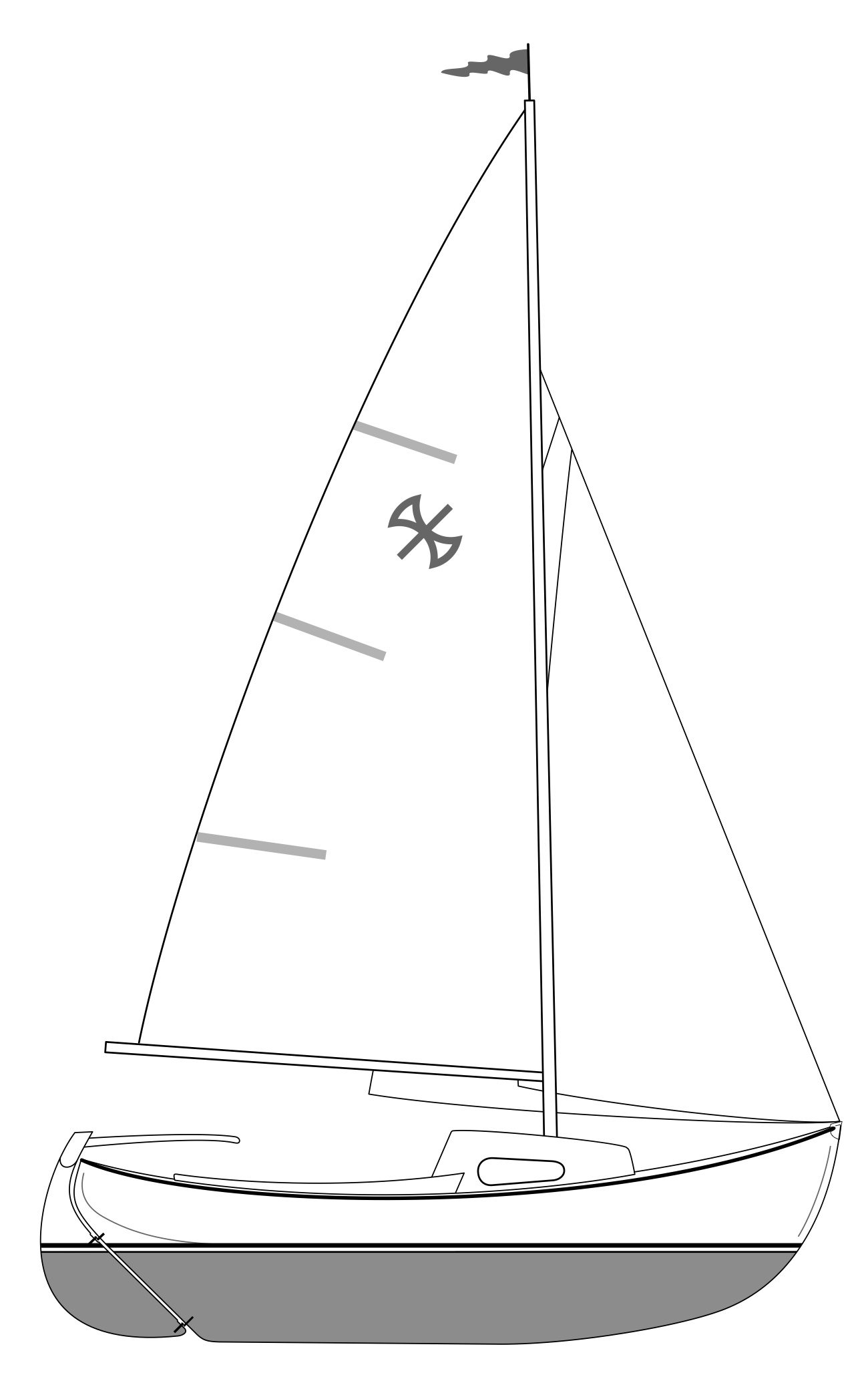 ** Drawing: Nordica 16-Yahoo Group
There is very nice discription to Nordica 16, written by H.T. Holman, the former owner of the "Strait Rhumb"
The original text you can find here: https://sites.google.com/site/nordica16/
The Nordica 16 is a pocket cruiser based on a north sea design and built in Denmark. In the mid-1970s the design was exported to Canada and was built be the Exe Fibrecraft in Exeter, Ontario. Production continued into the early 1980s and about 400 boats appear to have been built. After production in Exeter ceased an unknown number of boats were built elsewhere in Ontario by the Airscoops Corporation. Molds for the hull have been reported in several locations across Canada. Copies of the molds were also made for Australia
The Exe Nordica came in two different models differing only in equipment supplied. The deluxe model had a genoa, bow pulpit, navigation lights and special colours.
The Nordica design is very salty with full keel, double ender with a cuddy cabin and two berths that can just barely accommodate a 6 footer. Although called the Nordica 16 the waterline exclusive of the rudder is only 13' 10" and the total length is just over 15 feet. Beam - 6'2" Displacement - 925 lbs, With 450 lbs of concrete ballast enclosed in fiberglass it is very stable and has kind motion in heavy seas. The N-16 can handle heavy weather and does not heel excessively. It has good speed and stability in high winds. Easy to load/unload from a trailer due to its shallow draft (1'10"). The chief weaknesses is that the cockpit is not self draining. Slow in light winds - a # 2 Genoa sail helps.In Lynaes Denmark, where the design originated, the boat is known as the Lynaes 15 and is built an an almost identical design. In Holland it appears as the Midget 15. It is also referred to as the Oostzeejol (Baltic Sea Dinghy). Hull molds appear to have been exported to Australia where it was built as the Lynaes 15. European versions of the boat appear to have been equiped with a spinnaker rig and this rig also appears on some of the North American Boats.
Brochure Nordica 16**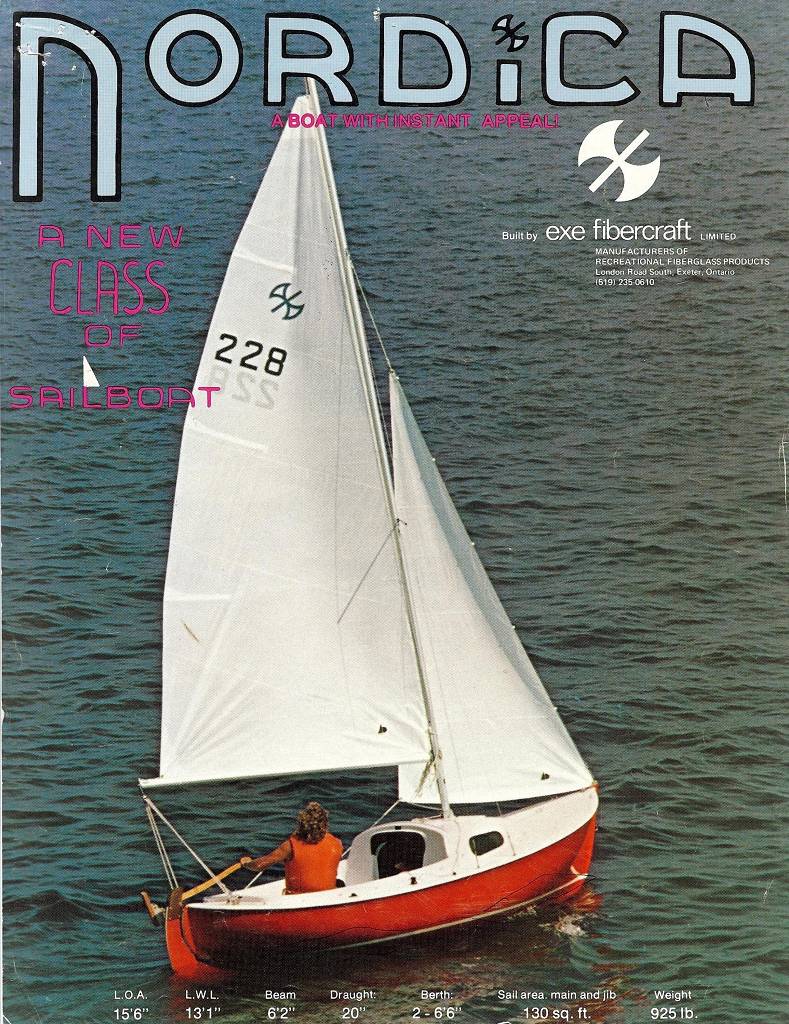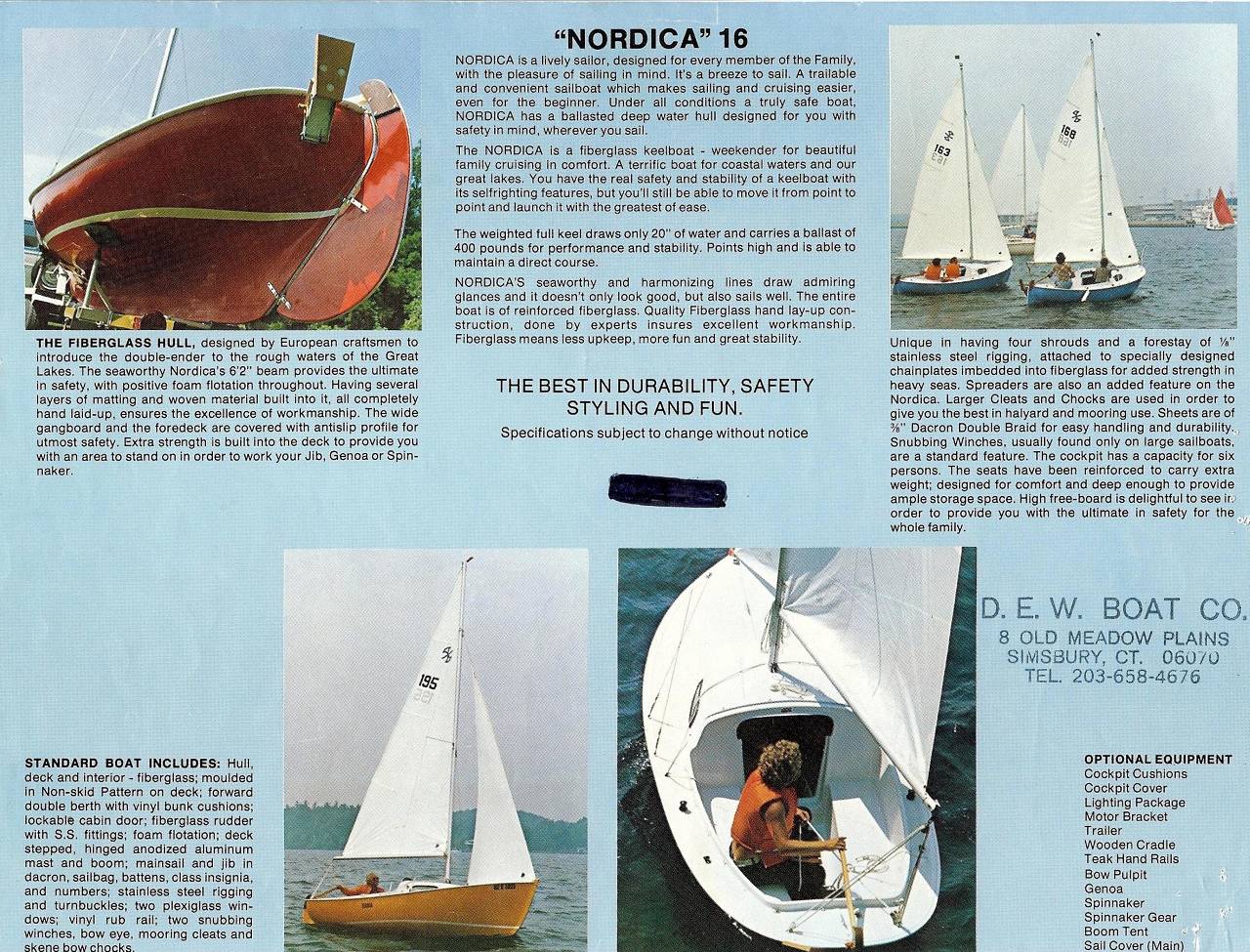 ** Brochure: Nordica 16-Yahoo-Group
* All information is supplied without guarantee.